Dorji Rinchenさん
【2017年~2018年 教員研修留学生プログラム】
教員研修留学生として本学で研修を受けたDorji Rinchenさんから帰国後の活躍と留学中の振り返りが届きました。
I am DORJI Rinchen, currently working as a teacher in Loselling Middle Secondary School, Thimphu, the capital city of Bhutan. I have been teaching in many schools in different parts of the country. I have joined this school right after my return from Japan. I enjoy this teaching profession because I get to interact with different kind of students on daily basis.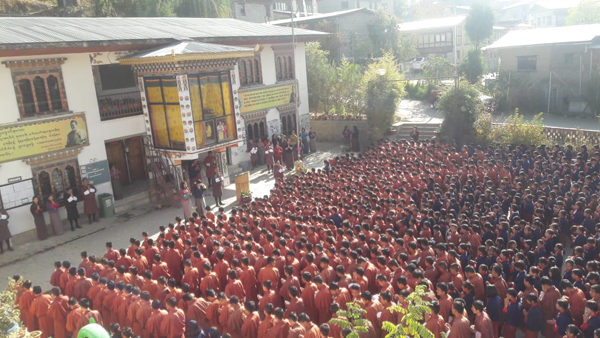 Students and teacher gathered for the morning prayer
During one and half year of study in Japan I had great opportunity to understand and experience Japanese culture. It's a valuable experience to see how things are actually working in Japan.
Thanks to different people I met for giving me such opportunity to participate and experience the diverse culture.
Moreover, the professors with diverse educational and cultural background helped me to expand my knowledge and to gain more global perspectives on different issues. The professors of Nara University of Education helped me to gain lots of skills like time management, problem solving, presentation skills through preparations and many skills and strategies related to teaching.
The skills that I have learned within and out of campus are really helping me to deal with my students today in my school. Above all, I have found lots of new things to learn from kind and hardworking people which I believe would help me in my career as a teacher.
Furthermore, it was really a great oppotunity to meet with the people from different nations and to know about them and their culture too.
Therefore, I would like to thank the entire faculty of Nara University of Education for giving me such rare oppotunity to be a part of you all short span of time.
Categories :
Teacher Training Students Program
,
Alumni
Last Update : 2022-02-25 11:56